Invisalign
You've probably wanted to have straighter teeth for a while, but at this stage in your adult life, metal braces are not a choice you are willing to consider. Invisalign® offers you the convenience and flexibility to live life without the hassle associated with other types of treatment. From the moment you start Invisalign treatment, you'll enjoy a better smile every day.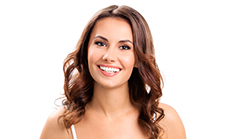 THE CLEAR ALTERNATIVE TO ADULT BRACES
Invisalign aligners are made of a virtually invisible plastic. In fact, you'll be surprised to find out how many people won't even notice you're going through treatment. That means not having to feel self-conscious about how you look. One thing people may notice, however, is that you're starting to smile a whole lot more.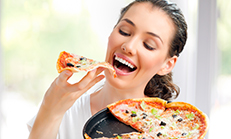 LIVE LIFE THE WAY YOU WANT
With Invisalign smooth, comfortable aligners, there are no irritating brackets or wires to worry about and no food restrictions that will change your eating habits. Plus with fewer doctor visits, Invisalign fits conveniently into your busy lifestyle.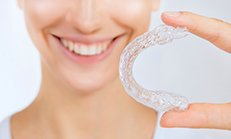 MAINTAIN ORAL HYGIENE
Invisalign treatment not only straightens your teeth, it allows you to continue to brush and floss as normal since the aligners are removable. As you know, having straight teeth can not only affect your oral health, it can impact your professional and social life as well.
Dentist in Glendale Explains the Best Candidates for Invisalign Treatment
Invisalign is a clear orthodontic alternative that many patients consider when it comes to treating misalignment of the smile. Whether they have crooked teeth within the dental arch or a misaligned bite, treatments such as orthodontics can help. However, metal bracket and wire braces are not always right for patients. Instead, many patients ask about Invisalign. Is Invisalign right for me? How long is treatment with Invisalign? Is Invisalign affordable? Dentist in Glendale, CA encourages patients to find out more about this treatment and determine if they are appropriate candidates.
Is Invisalign Right For Me?
Invisalign is great for patients with mild to moderate misalignment. This means they have minor changes that need to be made. It can also be used for patients with poor bite alignment, whether they have underbites, overbites, or cross bites. Patients with more several malocclusion may not be good candidates for Invisalign.
How Long Is Treatment With Invisalign?
Invisalign treatment varies from patient to patient depending on the severity of their misalignment and the compliance with treatment. The entire process uses clear aligner trays made into a series. Each tray is worn for two weeks at a time all day and night to slowly push teeth into their proper locations. This is done gradually with amazing results over the course of months or a year.
Is Invisalign Affordable?
Many patients find Invisalign treatment to be comparable with conventional braces. However, it has many extra benefits. Invisalign is comfortable, easy to use, and discreet. The entire process is fast and effective. Patients who are concerned about the cost of Invisalign are welcome to discuss financing options with our team.
Interested in learning more about Invisalign? Contact our dentist in Glendale, CA to learn more. At Precision Dental Implant, Cosmetic, and General Dentistry, we provide Invisalign and many other cosmetic, restorative, and general dentistry solutions for new and existing patients. Call(818) 545-8923today to schedule an appointment at our practice, conveniently located at411 N Central Ave Suite #245Glendale,CA91203 (opens in new tab).
Visit our Glendale dentist today and learn if Invisalign is right for you.
Related Articles About Invisalign: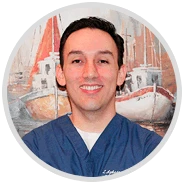 What do I bring to my appointment?
CALL US!
(818) 545-8923
Schedule An Appointment